News

HOME
Unideco Flooring APP launch
작성자 : UNIDECO l l 조회수 : 3527

Unideco Flooring APP launch!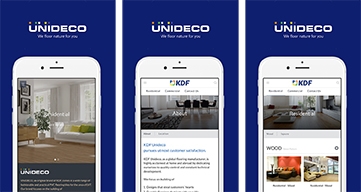 The Unideco Download App hosts the most popular design downloads from Unideco commercial & residential LVT(Luxury Vinyl Tiles).

1.KDF

KDF, as a global flooring manufacturer, is highly acclaimed at home and abroad by dedicating ourselves to quality control and constant technical development,
and featuring the total production system(integrated vertical production) from raw materials for all the layers to final products?.
KDF's sales have been increasing from its foundation in 2009. It clearly shows that its product has established a solid position in the LVT market.
Based on building friendly brand images and offering unparalleled customer services, UNIDECO continues to seek to become the best flooring brand in the world.
KDF promises you the consistent commitment to customer satisfaction and the ceaseless efforts for technical development.



2.Unideco

UNIDECO, an original brand of KDF, comes in a wide range of fashionable and practical PVC flooring tiles for the area of LVT.
Our brand focuses on the building of
1. Designs that steal customer's hearts
2. Durable floorings that last with your life
3. Reasonable price to let more people enjoy better homes
4. Customer Service that everyone would be satisfied with and proud of.